Dicota WinBag for Clamshell iBook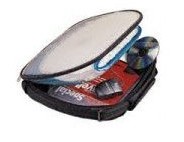 The Winbag bag is made for the Clamshell iBooks. One side is transparent and gives a good view on the iBook.

There is a large side pocket for the YoYo power supply, cables, mouse and so on. The handle can be extended.
There were various versions of this bag, with colored inserts at the translucent side in tangerine, blueberry, graphite. There was also a clear version which is suitable for all colors, whether blueberry, graphite, keylime, tangerine or indigo.