LaCie Firewire speakers
The LaCie Firewire Speakers look pretty good and don't need an AC adapter because they are bus-powered. If you own a firewire Clamshell this might be the right choice. There connecting cable between the two speakers is a lttle bit short..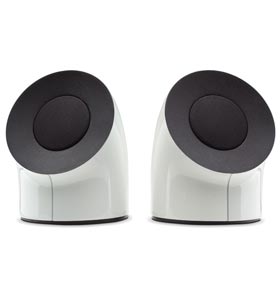 Compared to its small dimensions you will encouter a powerful sound. The installation is cumbersome: You have to open /utilities/ Audio Midi Setup and choose Lacie Firewire Speakers as default and system output. Then set audio output properties to 44.100 Hz. There seems to be a fatal bug if you're running OSX 10.4 Tiger: while everything seems right under 10.4.6 - after you install the 10.4.11 update the system will crash immediately when the first sound is played.