Video iBook Special edition
Details
Promotional video for the 366Mhz iBook Special edition 
TV Series Dr.Psycho - German Columbo with an iBook
Details
The award-winnung german TV Comedy series Dr. Psycho - The Bad, The Coppers, My Wife and Me (2007 / 2008) by Ralf Husmann had a friendly and disheveled-looking main charcter (a bit like the american detective Columbo) - Dr. Max Munzl (Christian Ulmen) who seems to belong to a different era. He rides an old folding bicycle and uses a Blueberry iBook - whilst his team consists of car-drivers and Wintel PC users.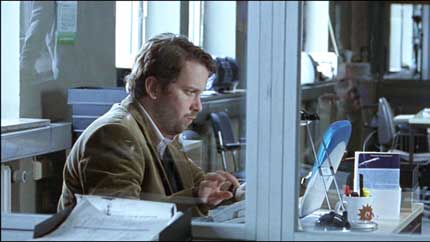 Read more: TV Series Dr.Psycho - German Columbo with an iBook
Steve Jobs presenting the iBook at Macworld 1999
Details
Steve Jobs introduces the iBook during the keynote presentation of Macworld Conference & Expo, New York City on July 21, 1999.


Phil Schiller's iBook stunt
Details
Immediately after his presentation of the iBook and its new airport feature: Marketing Director Phil Schiller jumps with his wireless connected iBook several meters down onto a gym mat - nice stunt !