iBook von Todd Stauffer (engl.)
Todd Stauffer ist einer der erfolgreichsten amerikanischen Autoren zu Themen rund um den Mac. Der 636 seitige englischsprachige Wälzer "How to Do Everthing with Your iBook" (ISBN 0-07-212419-9) lässt denn auch kaum Fragen offen wenn es um die erfolgreiche Konfiguration und Nutzung des iBooks im Zusammenspiel mit OS9 geht.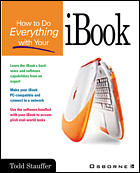 Allein zum Appleworks Programmpaket gibt es eine 150 seitige Einführung, ein Troubleshooting Guide hilft bei auftretenden Problemen. Das Buch wird gelegentlich für wenig Geld bei Ebay oder Amazon Deutschland angeboten.