iBook im Design Museum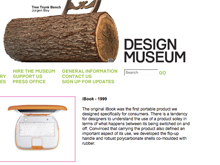 Das einzigartige Clamshell iBook Design wird in anerkannten Museen gewürdigt. So findet es sich im Londoner Design Museum mit vielen anderen Kreationen von Apple Designer Jonathan Ive wieder, sowie auch im New Yorker Museum of Arts and Design. Ein Bild des dort ausgestellten Key Lime iBooks befindet sich auf Karl's Web Desktop
Manchmal findet man das Clamshell in überraschendem Kontext wieder, so in der Yale University Art Gallery.