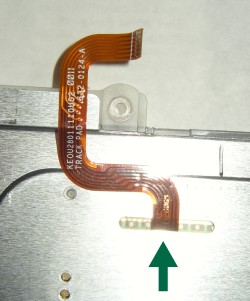 The most common accident that happens when disassembling the iBook involves the trackpad cable. If it is not freed from its clamping socket on the logic board in time, it will inevitably tear (at the end that is exposed in the picture).
Since it's hard to come by as a replacement part, you should get a full cover with a working trackpad on Ebay.
Unfortunately, a trackpad in the desired color is usually not available, but with a little skill the cable can be removed and reinstalled.
The trackpad cable can be exposed by carefully cutting open the thin metal cover on the inside with small nail scissors (green arrow) and bending the sides open a little until you can free the cable from its socket. The gaping gap can easily be closed later with a solid cloth tape.