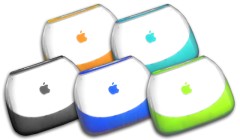 The clamshell iBooks have not been manufactured since 2001 and can therefore only be purchased used. The largest offer can be found on Ebay Since the models are more than 20 years old, it is definitely worth taking a close look at used offers and checking your own claims to the iBook, since upgrades, repairs and spare parts are not cheap.

iBook colors from left to right: Top row: Tangerine, Blueberry Bottom row: Graphite, Indigo, Keylime
1. In order to be able to assess the external condition of a device, you need original photos. Since some sellers simply copy a photo from Apple's advertising or the Internet, you should make sure that the picture shows the item for sale. Some sellers also get confused with the color names, so instead of getting an iBook in Indigo, you could get one in Blueberry. Normal wear and tear mainly affects scratches on the bottom and top of the case, small cracks on the small apple symbol below the display and on the carrying handle.
2. If the seller can't tell anything about functionality and features because they got it "from a friend" and without a power supply, assume that it is defective. In the worst case you get cannibalized ruins.
3. Devices in their original condition: The simple models in tangerine and blueberry with 300Mhz in the standard configuration (3.2 or 6GB hard disk, 4MB graphics, 32 or 64MB RAM, US keyboard) are offered from 120 euros. If the battery lasts a few more hours, the value increases by 50 euros.
The best price/performance ratio is offered by the 366 Second Edition indigo model with Firewire (8MB graphics and 10 GB hard drive, CD drive for around 180 euros (there are also 366s without Firewire, mostly graphite with smaller graphics memory and 6 GB hard drive), the 466s Models are rarer and more expensive (up to 350 euros), but have a DVD drive.
Only the 10 GB hard drives are large enough to record a minimum of personal data, music and photos, application programs and modern operating systems such as 10.3 Panther and 10.4 Tiger. OS9 and 10.2 Jaguar fit better on smaller hard drives. The color Keylime is the rarest and correspondingly expensive.
4.Upgraded devices: Sometimes you can also get used devices that already have a larger hard drive (20,40,60,80 GB) installed, which will cost more accordingly. If you don't dare to do handicrafts, invest more money in an already expanded clamshell iBook. The memory equipment is also different. It is useful to have 320MB (or 288MB) of RAM if you want to run OSX 10.3 or 10.4, all models are upgradable to 576MB (or 544MB). OS9 runs fine with 64MB RAM
5. Used prices for optional upgrades: RAM modules (128MB up to 5 euros, 256 MB up to 15 euros, 512 MB up to 40 euros)
An internal WLAN card (original airport) - not a USB stick - is worth about 30 euros.
6. Important questions for the seller:
- Have it confirmed that the display is still bright, evenly lit and free of dead pixels. Used displays cost 40-100 euros
- Ask if a (GB,US) keyboard is installed and if all keys work. Used keyboards cost 30-50 euros.
- Confirm the displayed battery life under the installed operating system. A new battery is hard to come by.
- A functional power supply unit that hasn't been glued or soldered is important. Used replacement power packs are available from 25 euros.
- Ask if the original equipment is present, including box, modem/AV cable, manuals and OS8 or OS9 operating system CDs. Some sellers install a more up-to-date operating system and additional programs, but do not supply the original CDs and licenses. Matching notebook bags are very practical and also hard to come by these days.