Do not expect miracles from a clamshell in terms of video capabilities. The 366Mhz and 466Mhz models with FireWire port are better suited because of the 8MB graphics which is necessary for playback and recording.)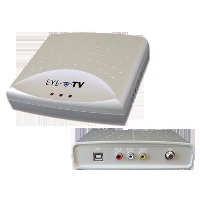 The external EyeTV USB Box from Elgato in its first USB 1.1 version is well suited for these models. The connection to the iBook is via a USB cable, it powers the box too - an external power supply is not needed. The EyeTV software in version 1.2 is, upgrades to version 1.8 are possible - but I did not, as there are increased hardware requirements (500Mhz processor).
You will see on the back of the USB box an antenna socket for a terrestrial analog TV signal and three RCA jacks for a video signal (yellow) and two audio signals (left / right - red / white). With a scart adapter cable can be so easily connect to satellite or Cable TV. The image stabilization takes a few seconds so avoid the zapping through the channels. The recording feature takes about 650MB per hour because of the old MPG codec.

Who only a 300MhZ Blueberry and Tangerine or a 366Mhz Graphite without FireWire with 4MB graphics can also connect the box, but it takes about 20 seconds in full-screen mode until the video stream has been synchronized, still occasionally small dropouts are visible (test with a Blueberry iBook with 320MB RAM). Useful only for very patient Clamshell fans. A recording is not possible.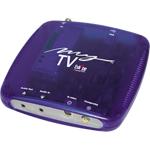 The external USB box myTV from Eskape was originally designed for connection to an iMac. It will works on the clamshell with a workaround. Because the device needs a microphone input jack on the iBook (which is lacking) you must use an additional of Griffin iMic USB. So the whole construction gets unwieldy.