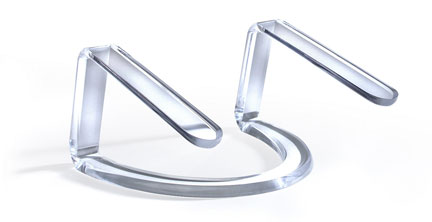 Back in 2002 Griffin released the iCurve, a nearly invisible laptop stand which was made of a single bar of crystal clear plastic. The elegant and curvy design matches the Clamshell in a perfect way. The iCurve lifts your iBook display to a comfortable viewing height when you work for hours on your desk- and to save your aching neck.
You have to use it with an external keyboard and mouse, because the stand is not rock-steady enough to type on it.
If you are a collector, the iCurve is an ideal way to show your beloved Clamshell.In 2006, the iCurve was detached by the Griffin Elevator which is not as beautiful but more solid.