Is a 466Mhz clamshell iBook suitable for connection to a modern digital projector? Yes, it is even possible to set up a small home cinema with it: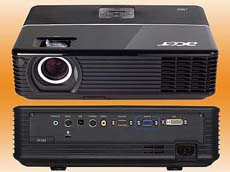 Digital Projector:
I chose an Acer P1165 with modern DLP technology, which is optimally matched to the clamshell iBook with its native 800x600 pixels (SVGA) resolution. In addition to VGA, S-Video, DVI and HDMI sockets, the projector also has a composite video input marked in yellow, so that the original Apple connection cable can be plugged in directly. However, there is one limitation: the image quality of a composite signal is visibly worse than that of a VGA or DVI signal, so the projection is more unstable and a bit blurry.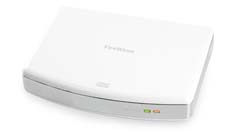 External sound card:
In contrast to the onboard sound chip, the Griffin Firewave Box supports the Dolby Digital and Dolby Pro Logic II audio formats used with DVD movies - the connection is via the Firewire port. The basis for real cinema sound! At least OSX 10.4 Tiger must be installed on the iBook.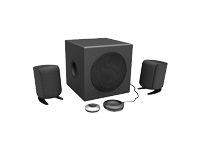 audio system:
I have a (no longer available) HMS Wavemaster 2.1 sound system. connected, which, with its 60 watt subwoofer and 2x20 watt satellites, convincingly conveys the loud sound of action films such as Batman - The Dark Knight.