Page 1 of 2
The following text and photos are published with the permission of Jason "Hooptie J" Kennedy, the author of the legendary CyBook mod. The original information was lost, but I was able to recover his instructions with a little help from the wayback machine. Jason sent me his original photos (thank you so much)- so off we go....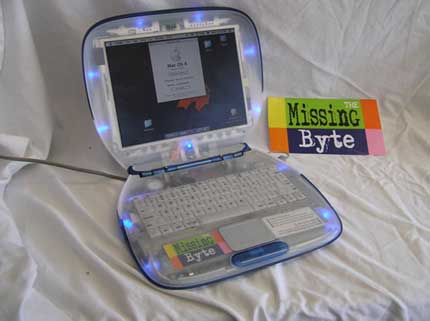 -- original text by Jason "Hooptie J" Kennedy--

My Ultimate iBook SE, An Indigo 466SE with every add-on on you could think of !

This is a Rare iBook Indigo 466SE, Rare because it was only available to edu markets- I got the iBook from an eBay seller (locally - Score!), it was obviously a teachers model, of the hundred he had , most were 366s. Only a few were 466 models, this was the better of the 3 i had to pick from. The project started after I ordered 50 UltraBright blue LEDs for another project, and ended up with a bunch left over.