OSX Panther customized installation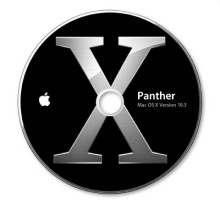 Who wants to install more current software on his Clamshell iBook needs at least OSX Panther 10.3. The following has to be considered:
1. RAM equipment: Panther is even executable on a 300Mhz Clamshell, which has at least 128 MB RAM - the performance breaks in compared with OS9 however strongly. Anyone who can afford it may install a 256MB module in the RAM slot for more speed. 2. When you buy a used Panther license make certain that he does not acquire a model-bound version for a G4 iBook, which is not executable on a G3. 3. OSX 10.3 can be installed also on a small 3GB harddisk. A slim installation takes necessarily only 1.6 GB if one selects only one language file and the appropriate printer model without the extensive printer driver data base. During the installation dialogue an >>Anpassen<< button appears which easy one can survey. With the Freeware Monolingual language files can also be removed later on. On Apples website you will find support pages for OSX Panther with much information. Among them also PDFs for introduction, as well as Tipps for the installation and configuration as well as last 10.3.9 Combo update for direct download.