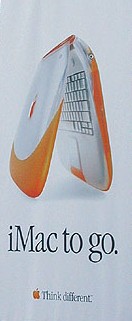 The clamshell iBook was the missing link in the existing product range.

The products for the professional sector received the root word "Power" - The "PowerMac" was the desktop model, the notebook for business users was called "PowerBook".
For the consumer market of private users at home, at school and at university, the "i" was selected as the identifying feature. After the colorful "iMac" desktop computers were introduced, Macworld 1999 introduced the "iBook" as Steve Jobs' last missing piece.
The catchy advertising slogan was "iMac to go" - iMac to take away.