OS9 treasures: Appleworks 6
On the original iBook OS9 installation CD you will find in addition to the operating system some bonus programs that are easily overlooked. The first iBooks which came with Mac OS8.6 were bundled with AppleWorks 5, newer iBooks with Version 6.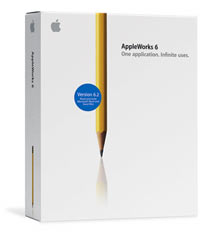 AppleWorks, the forerunner of iWork, offers a set of functions. Word processing, page layout, painting, spreadsheet calculation, database and pesentation module. The Appleworks version 6 comes with a converter for older MS Office formats. Apple Works 6 has a good performance on low equipped Clamshell and works sufficiently for for private use. With the last available patch you can run it under OSX. Apple also offers PDF manuals for download.