XPostFacto brings Tiger to original iBook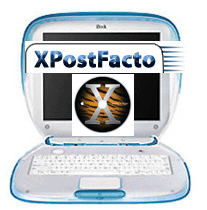 The minimum system requirements for OSX 10.4 Tiger: G3 with at least 256MB RAM and a FireWire port. The first clamshell editions in Blueberry and Tangerine as well as the first Special Edition in Graphite without FireWire therefore accept only OSX 10.3 Panther as maximum OS. The newer Clamshell iBooks models with FireWire can use Tiger without any problem. With the help of the software XPostFacto you can override the limitations of the Tiger installation routine.
For the installation from the integrated CD-ROM drive you will need the rare 4 CD version of 10.4 with black labels, alternatively you can replace the standard optical drive with a DVD-ROM, for example the one from the 466mhz Clamshell. XPostfacto is installed under the current operating system as a DMG file for OSX or a OS9 SIT file. When you start the XpostFacto application you can select the installation media and the target partition, then a restart with cryptic messages follows. Xpostfacto is unfortunately quite choosy concerning the CD/DVD media and supported optical drives. My otherwise perfectly bootable external USB DVD drive was not accepted. Your success is not guaranteed: even if you reach the point when the installation starts, it may fail for unknown reasons.