Futurama: Hermes and the iBook
Details
Futurama is an Emmy Award-winning animated American sitcom created by Matt Groening. Hermes is the Jamaican accountant of Planet Express. In the episode "The Problem with Popplers" he is using a Clamshell type laptop.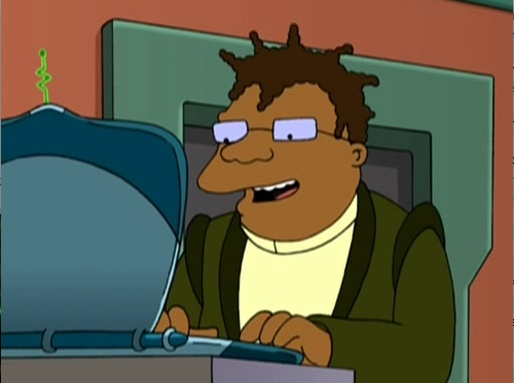 Film: Thriller The Glass House featuring Tangerine iBook
Details
"The Glass House" is a Thriller directed by Daniel Sackheim and was released in 2001. Young Leelee Sobieski, Diane Lane und Stellan Skarsgard had the leading parts. The girl used a Tangerine iBook with visible Apple logo in several scenes, and wireless networking as well as long battery life were casually introduced. The interior decoration of the modern "Glass House" corresponded with with fashionable ibook.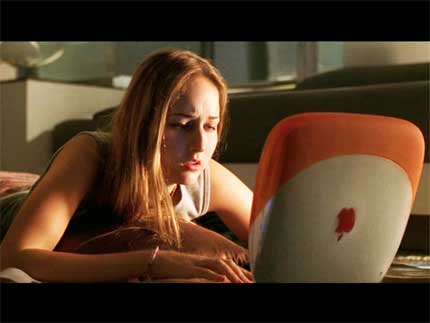 Read more: Film: Thriller The Glass House featuring Tangerine iBook
Ellen Feiss Switch Apple Commercial
Details
The legendary Apple Switch-spot with the student Ellen Feiss, who reported that her father's Windows PC crashed while she was writing a paper.

Some people who saw the spot thought that the girl was stoned, the spot was spread en masse all over the internet - and so Ellen Feiss became famous.



I was writing a paper on the PC, and it was, like, beep, beep, beep, beep, beep, and then, like, half of my paper was gone. And I was, like ? heh. It devoured my paper. It was a really good paper. And then I had to do it again and I had to do it fast so it wasn't as good. It's kind of a bummer
Codename Toiletseat
Details
Toilet seat was a nickname for the Clamshell iBook because in their eyes it looked like a comfort station fixture. So a manufacturer of sanitary articles placed an iBook quite innocently on its web pages.