iBook Clamshell Product Placement: Film Good Advice
Details
Apple used to promote its products via Product Placement in major TV-Series and Cine films. A paradigm is "Good Advice" (2001) with Charlie Sheen and Denise Richards. A Blueberry iBook shows up right after the opening credits. Cindy Stine (Richards) is an advice columnist who types on a Clamshell iBook, later on Ryan Turner (Sheen) takes over her job and her notebook.The Blueberry iBook and Apple logo are omnipresent in almost every scene until the end titles.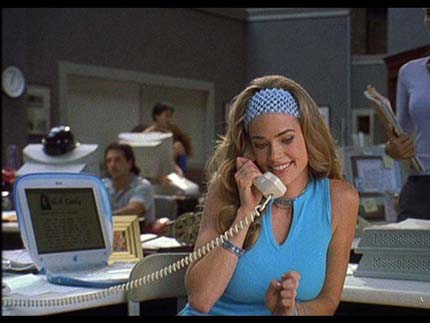 Read more: iBook Clamshell Product Placement: Film Good Advice
Apple commercial: iBook Attract Loop
Details
Official promotional video "Attract Loop" by Apple with the original blueberry and tangerine iBooks
iBook Apple Expo 2000 Paris
Details
The duration of this Video of the keynote at the Apple Expo 2000 in Paris is about one hour and twenty minutes and shows again the sales talent of Steve Jobs.

The European audience was visibly annoyed by the repeated advertising for the Apple Store on the Internet, of course, a rival to the established dealers.

You can go directly to minute 38:30 when he reveals the new Clamshell iBook models with FireWire (indigo, keylime and graphite)

According to Steve Jobs, the green keylime is the favorite color of the iBook designer Jonathan Ive and his team. The announcement that this color will be available only on the Apple online store, called protests.

The new feature that the iBook has an video output for an external TV was not mentioned.


Apple commercial: iBook - Notice the change
Details
Apple promotional video with the song by Barry White "You turned my whole world around" 1977, CD "Barry White Sings for Someone You Love", remastered, Mercury / Universal